CARE GUIDE
Care and Characteristics
Buying a new sofa is a long term investment and we want you to get the longest life for your furniture. To provide you with extra peace of mind, all our sofas are available with 5 Year Furniture Guard – the most comprehensive insurance anywhere in the market.
However, to help prolong the life of your sofa, we do recommend the following tips:
Exposing your sofa to direct sunlight for prolonged periods of time may cause a deterioration of the colour and fabric so we don't recommend the use of our sofas in a sunny conservatory
Ensure your sofa is at least 30cm from any heat sources like radiators to prevent any changes in colour
Do not place anything very hot on your sofa. Things like hot water bottles, cups and laptops may mark or damage the fabric
Ensure the sofas are in rooms that are neither very hot, very cold nor very damp as this may cause problems with your sofa
Plump your cushions weekly and make sure the sofa fabric stays clean with a light vacuum monthly on a low setting with a brush attachment
Your leather sofa can be dusted down with a soft damp cloth. This will ensure dirt will not settle and will prevent undue wear or staining
Caring for your fabric sofa
Our fabric sofa range offers a wide range of models including corner units. We use kiln dried solid hardwood in our sofa construction and the joints are screwed, glued and in some ranges, double dowelled to produce a robust and durable frame.
We offer both cushion back and pillow back sofas and while both offer incredible comfort and support, it's really up to you which look you prefer. Some of our cushion back sofas have a feather filled back for superior comfort and luxury.
Our cushions are made from high density foam wrapped or topped with blown fibre for superior comfort, support and shape retention and so while you do not have to turn the cushions on your fabric sofa, we do recommend plumping the cushions regularly to ensure they stay looking and feeling fantastic.
The best way to plump your cushions is to remove them from the sofa, punch them on all sides and then drop them to the floor. This forces air inside the cushion, maintaining their shape and support.
Regularly rotating the cushions will also ensure that they wear more evenly and if you have a lot of natural sunlight in the room, this will slow any colour fading that may occur over time.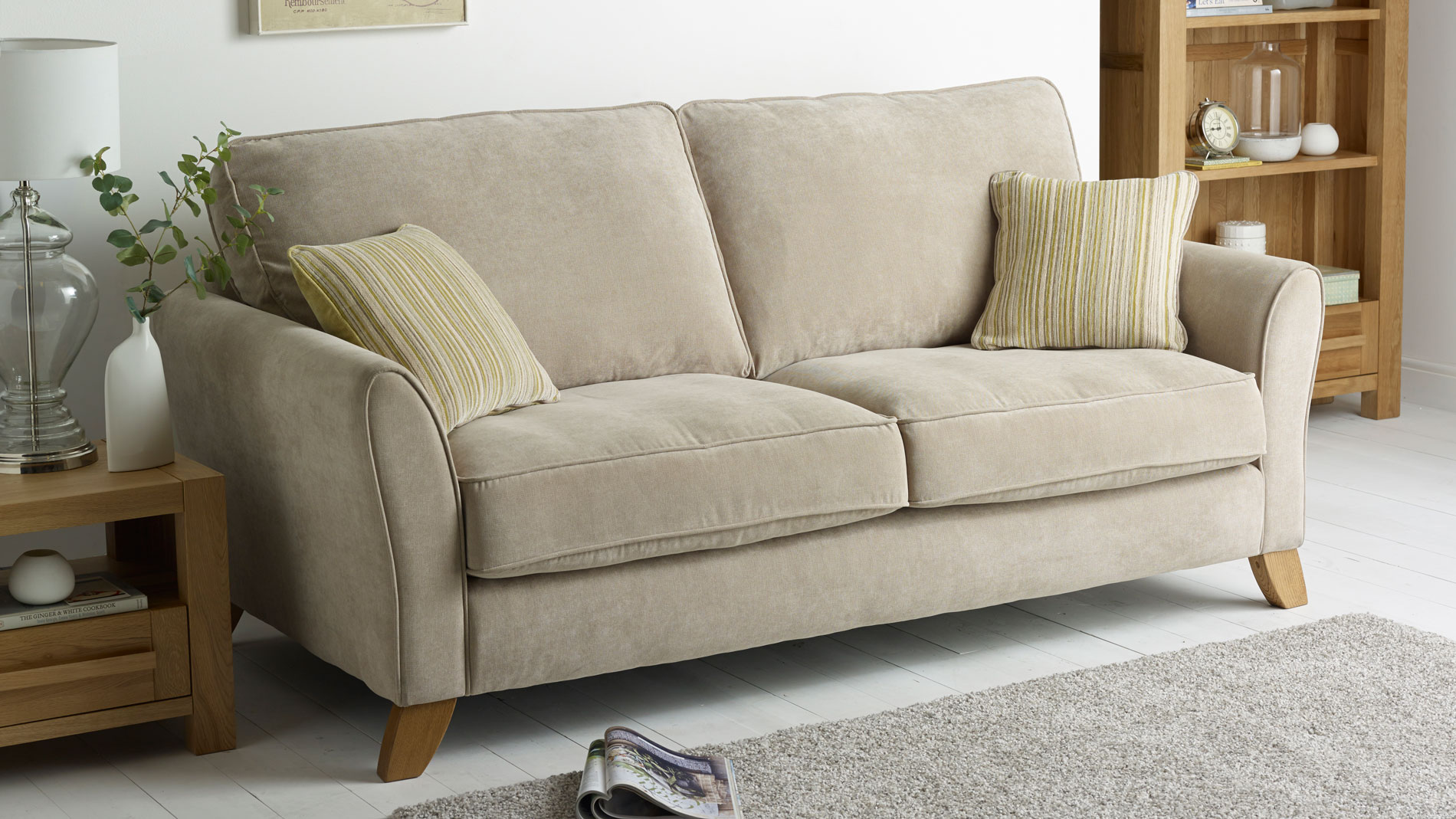 Vacuuming every month on a low setting with a brush attachment will help keep your couch in great condition. Get into all the nooks and crannies to ensure all dirt and dust is removed.
Before using any cleaning materials on your fabric sofa, give it a spot test first in a discreet area to ensure you are happy with the result and you do not cause any unnecessary damage.
If your fabric sofa can withstand water, use a mild washing up liquid or laundry detergent in warm water to remove any marks. Lightly dab the liquid onto the stain and then rinse with a clean cloth and small amount of water. Use a dry cloth to blot out any excess liquid and leave to dry.
You may want to consider getting your sofa cleaned once a year by a specialist cleaning company.
Caring for your leather sofa
Our leather sofas are made from 100% real leather – that's on the front back and sides with no plastic or faux anywhere! One of the reasons leather remains a popular choice – especially with families – is that it is incredibly easy to care for and maintain. A leather sofa will easily last for many years if cared for properly so it's important to consider our tips, ensuring a long life for your investment.
Be aware that we use two different types of leather in our ranges. Corrected grain leather is hand buffed and dyed to remove any imperfections. This means it's highly durable with good elasticity and retains its shape for longer, perfect for busy lifestyle.
Our semi-analine leather comes from a higher quality hide with less treatment and pigmentation. This gives the leather a much more natural look and will soften and wear with age, giving it a beautiful patina and a warmer feel.
For all our sofas, maintenance is simple. Just use a soft damp cloth and wipe your sofa down once a week to remove any dust or dirt. If you spill anything on your sofa, simply use a damp cloth to wipe it up and then a soft dry cloth to buff immediate afterwards. Don't rub too hard on your leather sofa to avoid damaging the finish.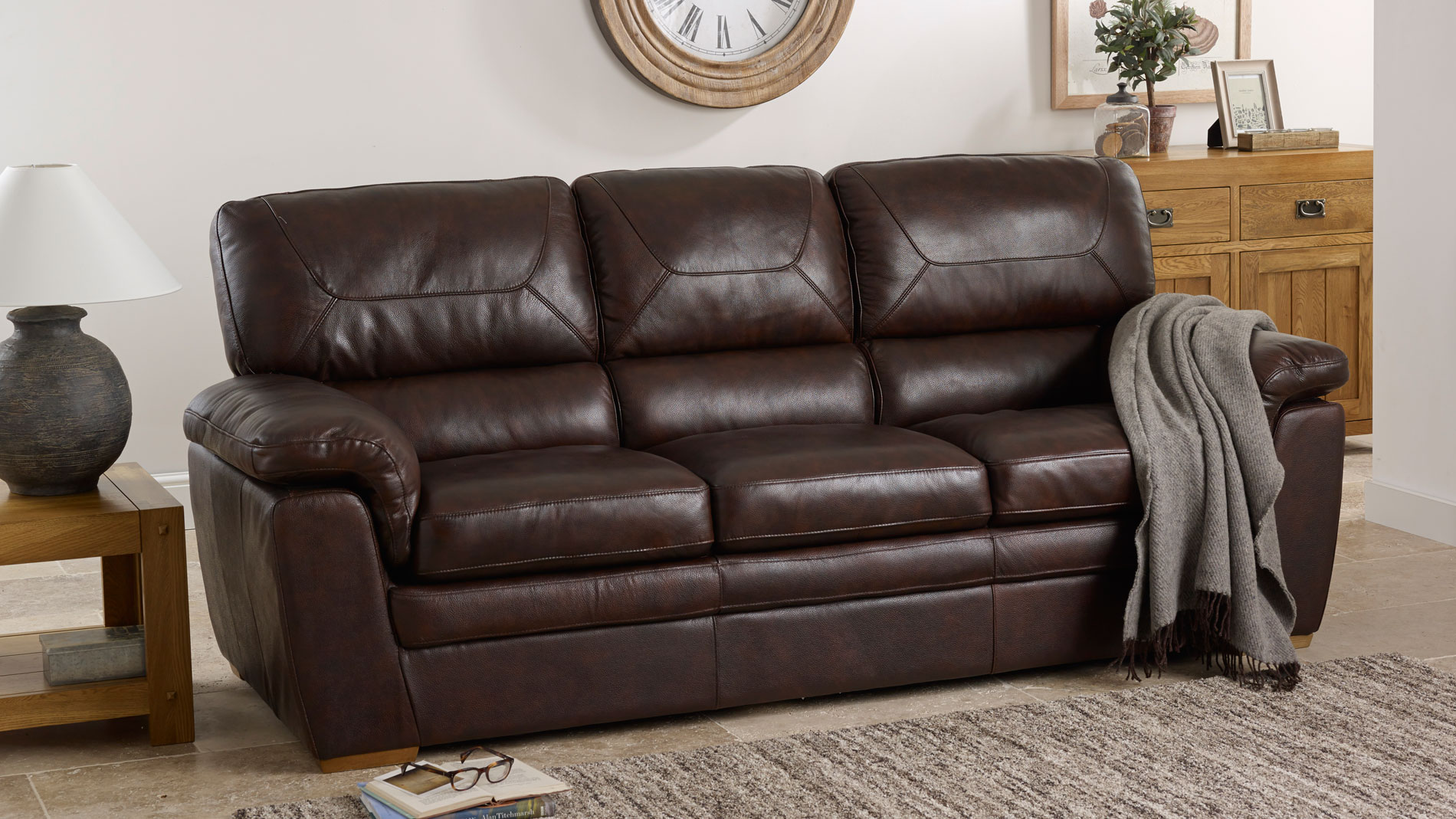 You can use a specialist cleaning kit once every six months or so including a treatment cream to keep leather soft and supple and to preserve its quality but be sure not to over-use these products.
Our all-inclusive leather care kit has been formulated to clean and protect without damaging the finish. The kit covers each key stage in leather care: cleaning, conditioning and protection.
We recommend you treat your leather upholstery immediately on delivery, prior to use, and every few months thereafter.
Do not use household cleaning products, solvents or cleaners intended for materials other than leather as they are liable to spoil the finish. Protect your leather furniture from strong sunlight and excessive heat such as radiators.
Avoid using wax, silicone polishers or any detergents or abrasive cleaners on your leather sofa.
Always test any cleaning products on a hidden area of your sofa first to ensure you are happy with the result and to avoid any unnecessary damage.
Although every effort is made to achieve uniformity, no two hides are the same therefore you may see variations in shade and texture of products.
Natural markings such as healed scars, wrinkling, stretch marks and veining may also be present; these are considered an integral part of the leather and should not be viewed as faults. All these features add to the natural beauty of the leather and show it is the real thing.
* Free delivery to Mainland UK & Northern Ireland
† Minimum spend £500, 48 monthly payments, 9.9% APR representative. Subject to status.
†† 7 day delivery is available when you pay £39 for Express Delivery option.
Credit Broker is JB Global Ltd t/a Oak Furniture Land and Sofastore.com, Unit DC2, Viscount Way, South Marston Industrial Estate, Swindon. SN3 4TN. Credit is provided by a panel of lenders with whom we have a commercial relationship. Both JB Global Ltd and our lenders are authorised and regulated by the Financial Conduct Authority.
©2018 sofastore.com. All Rights Reserved. Registered address: JB Global Ltd, Unit DC2, Viscount Way, South Marston Industrial Estate, Swindon. SN3 4TN | Company reg. 05573571 | VAT reg. GB862215733
Exec Time: 0.118285 secs
Memory Usage: 6.521683 MB