Delivery
Choose from our Free or Express Delivery Options in our comparison table below:
Free Standard Delivery
Express Delivery
In your home in 7 days
OR any weekday in the next 3 months
-
Choose a day of delivery to suit you
-
Secured stock for guaranteed day of delivery
-
Courtesy call 30 minutes before delivery
2 man delivery service*
Delivered to the room of your choice
Cost
FREE
£39
We're committed to providing a delivery service which is quick, efficient and hassle-free.
When selecting our Express Delivery Service, Your chosen delivery date will be confirmed on your order confirmation email.
Choosing our Express Delivery Service is the only way to guarantee your delivery within the next 7 days. Or you can select any available delivery date to suit you within the next 3 months.
For our free standard delivery service, an estimated delivery date will be on your order confirmation email. We will then contact you (via SMS/text) with your delivery date. You will also receive an email with your owners manual that includes important information to read through at your convenience. 
For all deliveries, we will take your furniture to a room of your choice but unfortunately we are​ ​unable to unpack your order or take the packaging away. The day before your delivery we will send you a text message (SMS) re-confirming the delivery date and also provide you with a three hour delivery window. On the day of delivery we will call you 30-45 minutes before to let you know were on the way.
Did you know we are the only furniture retailer in Northern Ireland to offer free delivery on all our products? Or choose our premium express delivery and receive your items within 10 days to a room of your choice for only £39. Our free standard delivery to Northern Ireland is within 28 days. Both delivery options are subject to stock availability.
Our products begin their journey to you 3 working days before the actual delivery date. Therefore any amendments to the stated delivery date will be subject to a £39 fee. If an order is cancelled within 3 working days of the stated delivery date a return fee will apply. Please check Our Cancellation & Refund Policy of Your Owners Manual.
Please try to keep the packaging in good condition as its important in case you need to return your items. Damaged packaging will invalidate your returns rights.
Your furniture is packaged well to ensure it arrives to you in perfect condition.
Please advise us of any issues or damages within 24 hours
Some large items (such as beds and wardrobes) do require minimal assembly.
We have also put together a guide to ensure your delivery runs as seamlessly as possible.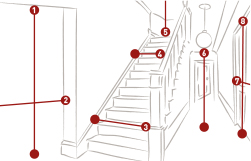 Click on the image to open as a PDF.
Before you buy, we recommend that you check that your chosen furniture will fit through hallways and doorways into your home, and into the desired room.
If your furniture is to be taken upstairs, measure the clearance height, especially if your staircase curves.
If your home has a lift, measure the height and width of the doorway as well as the lift.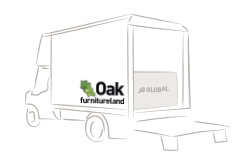 On the day of delivery, make sure the route of the furniture from the delivery van is safe and clear, taking into account access to the back of the van.
Remove anything from the walls of the access route that may be damaged, or that may restrict the delivery of your furniture.
Put down protective material, i.e sheets on the floors if desired. Protect edges and corners of railings and doorways with bubble wrap.
Clear space in the room for the new furniture.
Pets should be shut in a separate room during the delivery.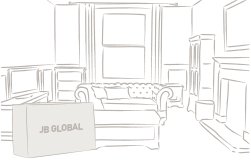 After delivery, keep your furniture's packaging and quality control label. The label will be needed for reference if you need to get in touch with us about your furniture.
Check the furniture is in perfect condition. If you have any concerns, contact us immediately.
Please note, we do not remove or dispose of any packaging as part of our delivery service.
Other Delivery Information
For any orders with a delivery address in the below-listed postcode areas, or orders weighing less than 25kg, we may deliver using a pallet delivery service or a parcel courier. These delivery services are still free of charge.
* If you live in any of the following postcode areas, your order may be delivered using a one man palletised distribution service:

KW11, KW13-14, IV27

Pallet deliveries may also be used at exceptionally busy times or at your request. For more information on this delivery service, click here.
If your order weighs less than 25kg, it may be delivered using a specialist parcel courier service. For more information on this delivery service, click here.
Unfortunately we are only able to deliver to the UK Mainland and Northern Ireland.
Please note that on rare occasions your delivery service may be subject to change. If this occurs, you will be contacted prior to delivery to be informed of any changes.
* Free delivery to Mainland UK & Northern Ireland
† Minimum spend £500, 48 monthly payments, 9.9% APR representative. Subject to status.
†† 7 day delivery is available when you pay £39 for Express Delivery option.
Credit Broker is JB Global Ltd t/a Oak Furniture Land and Sofastore.com, Unit DC2, Viscount Way, South Marston Industrial Estate, Swindon. SN3 4TN. Credit is provided by a panel of lenders with whom we have a commercial relationship. Both JB Global Ltd and our lenders are authorised and regulated by the Financial Conduct Authority.
©2018 sofastore.com. All Rights Reserved. Registered address: JB Global Ltd, Unit DC2, Viscount Way, South Marston Industrial Estate, Swindon. SN3 4TN | Company reg. 05573571 | VAT reg. GB862215733
Exec Time: 0.134343 secs
Memory Usage: 6.52346 MB